Winter magic in Obertauern & Radstadt
a winter & ski holiday in the high altitude ski area of Obertauern & in the Ski amadé
Experience together with your family or friends your very own winter fairy tale on a ski holiday in Salzburg! The range of activities is almost limitless: fun skiing in the popular ski area of Obertauern with ski slopes up to an altitude of 2,313 m and guaranteed snow from the end of November to the beginning of May or in the nearby Ski amadé area with its 760 kilometres of slopes and 270 ski lifts. The cross-country trail, winter footpaths and the ski bus all start right in front of the Marchlhof.
Skiing in Obertauern & Ski amadé
Unlimited fun skiing
Snow-sure ski area of Obertauern
Open from mid-November to the beginning of May
For keen & experienced skiers, yet also family-friendly
Over 100 km of slopes & 26 lifts
Green & red Tauern Circuit: encircling the resort on skis
Snowpark "The Spot" Obertauern, Bibo Bear Family Park & Fairy Tale Park with Ghost Train, timed racing run
Ski schools, snowboard schools & sports shops in resort
Free ski bus from Untertauern to Obertauern and Mauterndorf (departs every half an hour - return) – bus stop approx. 50 m in front of our holiday farm
Snow-sure ski area Ski amadé
Open from December to April
A total of 726 kilometres of slopes & 270 lifts
For all ability levels, especially families
Nearby ski area: Radstadt/Altenmarkt (10 mins./10 km), Flachau (20 mins./20 km), Reiteralm (20 mins./20 km) & Fageralm (15 mins./15 km)
Radstadt-Altenmarkt ski area: family-friendly, 17 km of prepared slopes, children's lifts, Funpark, timed racing run, Kinderland Fichtelland
Ski school & ski rental at the valley lift stations
Our tip: from the Marchlhof in Untertauern lots of other ski areas are just a few minutes drive away. Choose your ski days according to the weather and your mood. With the SuperSkiCard you can explore 23 ski areas with more than 2,500 kilometres of slopes in SalzburgerLand and the neighbouring provinces of Styrai and Carinthia.
Further winter activities
Winter idyll away from the slopes
Trail fun for skaters & classic cross-country skiers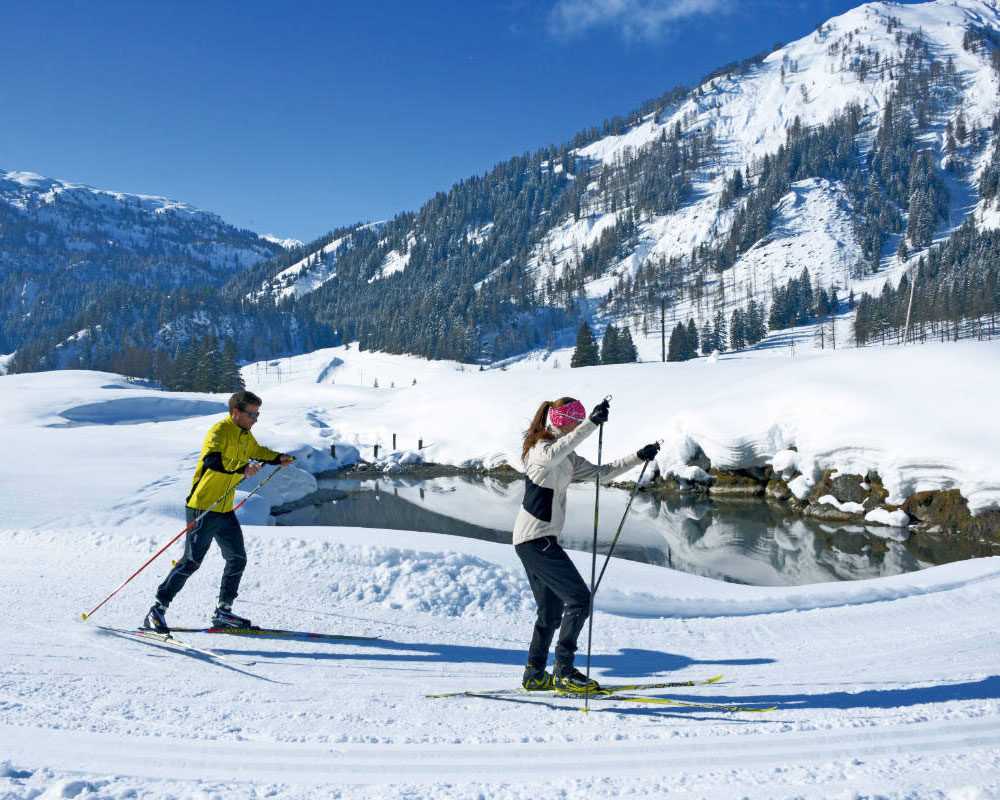 Lots of trails in Obertauern & in the Salzburger Sportwelt
Gnadenalm trail (approx. 25 km), Hundsfeld trail (approx. 6 km), World Cup trail (approx. 5.5 km), Cross-country trail Twenger Au (approx. 23 km), cross-country trail Taurach (approx. 24 km)
High alpine trail on the Rossbrand (altitude of 1,600 m Seehöhe) with fabulous panoramic views over the Enns Valley & Dachstein range
Marchlhof just 50 m away from the trail, nearby access to the Taurach trail towards Radstadt
Biathlon possibility on the nearby Gnadenalm and at the Jugendhotel Tauernhof in Obertauern
Free ski bus also for cross-county skiers (departs every half an hour) – bus stop 50 m in front of the Marchlhof
On your marks, get set, gooo!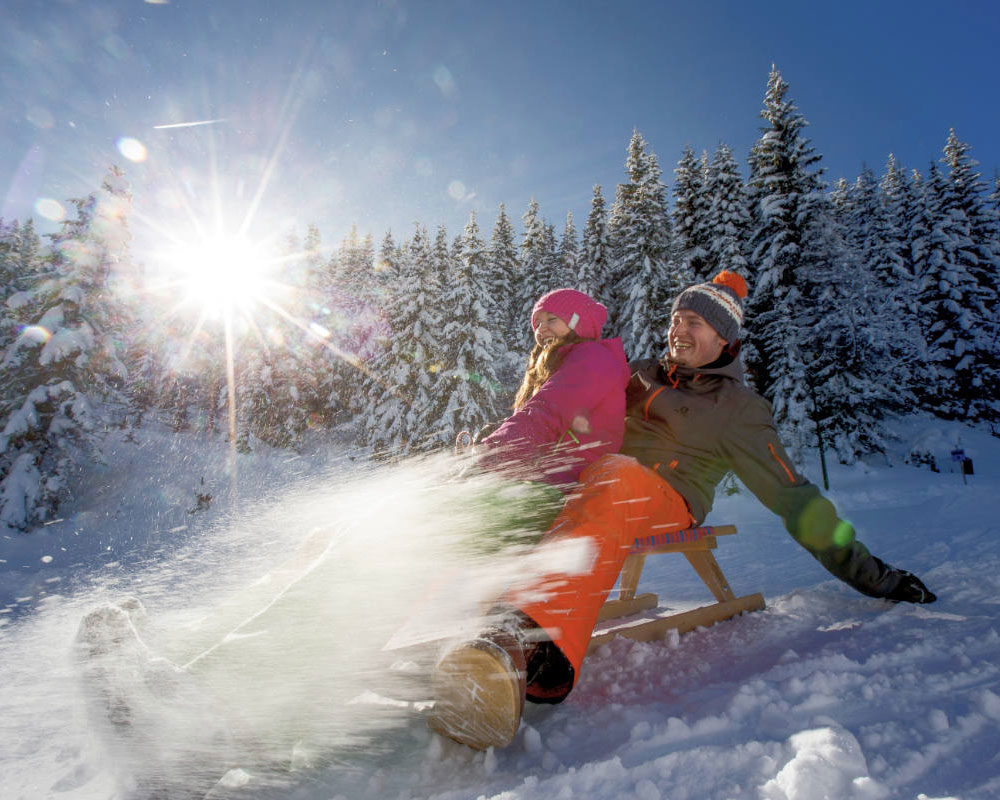 Toboggan run at the Gnadenalm, 1.5 km, floodlit, skidoo-taxi (10 minutes drive away)
Südwienerhütte toboggan run, approx. 5 km away, in Obertauern not floodlit (10 minutes drive away)
Königslehen toboggan run, 6 km, in Radstadt, comfortable ascent on the cable car, night tobogganing possible on Tuesdays & Fridays (15 minutes drive away)
Hochwurzen toboggan run, 8 km, in Schladming-Rohrmoos, floodlit, comfortable ascent on the cable car, (35 minutes drive away)
Bifang toboggan run, 4 km, in Altenmarkt, floodlit (15 minutes drive away)
Toboggans can be rented on site at an extra charge
Snowshoe hiking & backcountry ski tours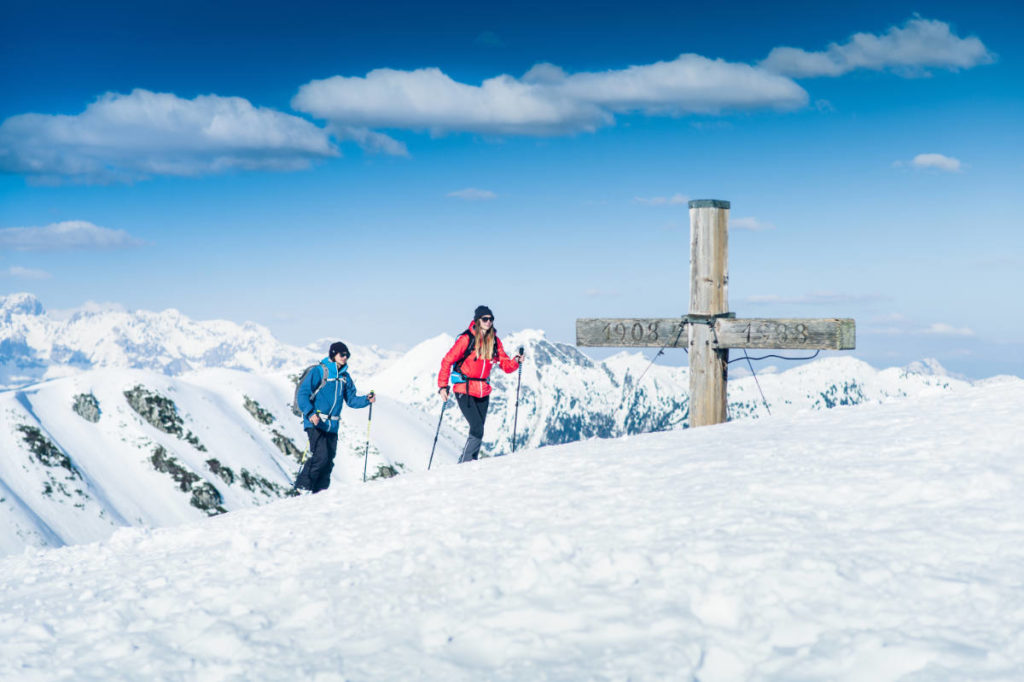 A wealth of winter footpaths in the region
Varied ski tours for experienced ski tourers as well as beginners in Obertauern & in Salzburger Land
Guided snowshoe hikes & backcountry ski tours bookable at the local ski schools plus the Tourist Office in Obertauern
Enjoy the snowy landscape off the piste & away from mass tourism
Traditional sports & Family fun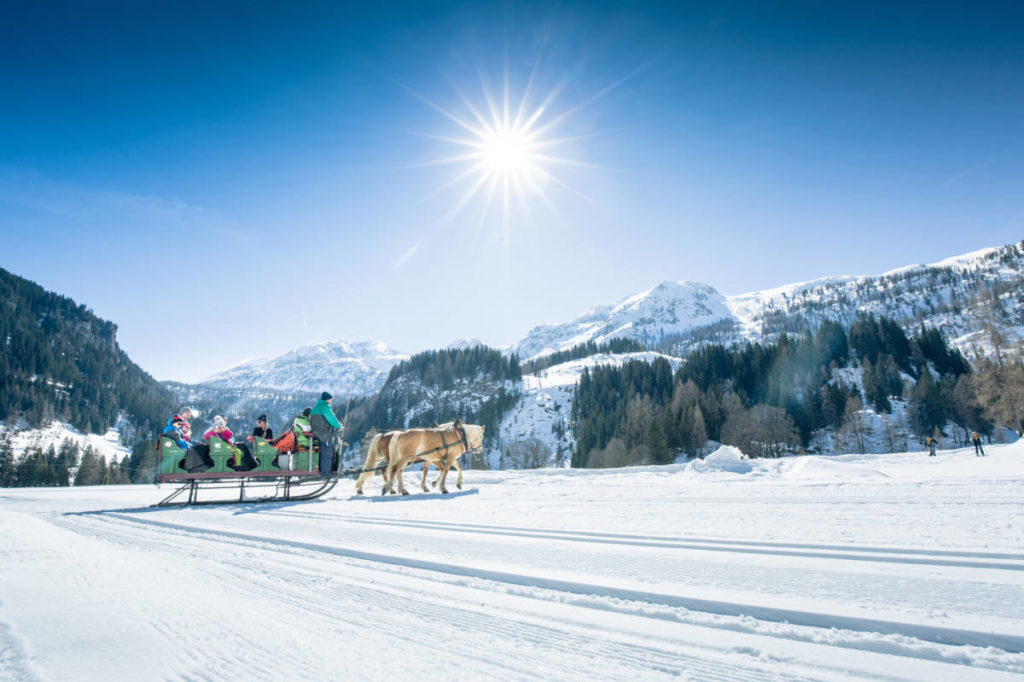 Curling rink at the Untertauern Wildlife Park and at the Gnadenalm in Obertauern
Ice skating rink & curling rink at the Sports Centre in Radstadt
Horse-drawn sleigh rides bookable in Radstadt & at the Gnadenalm
Snow biking: the new trendy sport – guided tours & and taster sessions bookable
Snow kiting in Obertauern
Sports hall, tennis, basketball, fitness, bowling, billiards, etc. in the Sports Centre in Obertauern